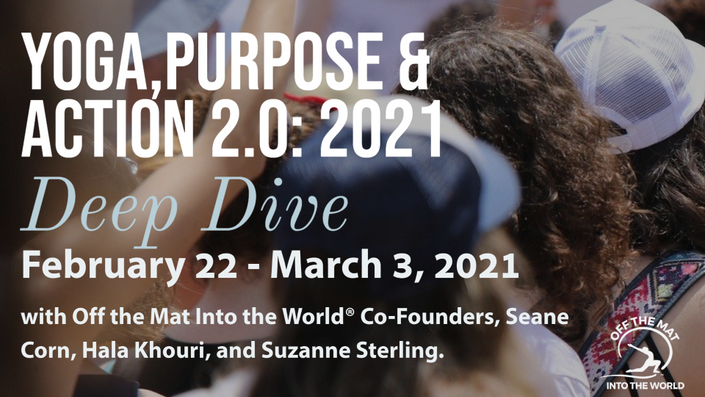 YOGA, PURPOSE, & ACTION: DEEP DIVE 2021
A 5-session live cohort February 22 - March 3, 2021
Register HERE
Welcome to the YPA DEEP DIVE!
Deep Dive sessions complement our core Yoga, Purpose & Action Training. These are small group sessions with OTM Founders Seane Corn, Hala Khouri, and Suzanne Sterling, where you will dive even deeper into the material presented in the main course, after each main course session.
These segments will include exercises and group discussions to explore the themes of the day and open Q and A with each of the teachers. This cohort will be limited in number and will afford more individual attention, as well as in depth exploration of the OTM methodology of inside out transformation toward conscious action.
DEEP DIVE REQUIREMENTS:
If you wish to do the Deep Dive version of the training, you must commit to attending all the sessions LIVE. This includes the morning sessions which are part of the main course and the practices that follow those sessions.
You must register for Yoga Purpose and Action separately from registering for the Deep Dive
These sessions will not be filmed as they are interactive and we want to respect the privacy of the participants. Opening Circle with Seane, Hala and Suzanne session 1 - The Mind Body Connection with Seane session 2- Trauma and Resilience with Hala session 3- Finding Your Voice with Suzanne session 4- Power, privilege and Purpose- Hala, Suzanne and Seane session 5- Activating your purpose- Suzanne
THIS 2-HOUR SEGMENT WILL INCLUDE:
Opening Circle with Seane, Hala and Suzanne
Session 1: The Mind Body Connection with Seane
Session 2: Trauma and Resilience with Hala
Session 3: Finding Your Voice with Suzanne
Session 4: Power, Privilege and Purpose with Hala, Suzanne and Seane
Session 5: Activating your purpose with Suzanne
As the world of in person trainings rapidly moves toward a new form, we intend to create a strong container of engagement, allyship and community that is the hallmark of our in person trainings and is a crucial part of the power of this work. We are all in this together and now more than ever we are committed to walking with you into your purpose and leadership.

SPACE IS LIMITED: This will be a small cohort group of 35 participants max.
This training is applicable toward 11 CEU's
DAILY SCHEDULE:
Feb 22: Opening Circle from 8:45 - 9:45am pst / 11:45 - 12:45pm est and then again from 2-4pm pst / 5 - 7pm est
Feb 24: 2-4pm pst / 5 - 7pm est
Feb 26: 2-4pm pst / 5 - 7pm est
Mar 1: 2-4pm pst / 5 - 7pm est
Mar 3: 2-4pm pst / 5 - 7pm est
PLEASE NOTE: You must commit to attending every session LIVE. There is limited space and these will not be recorded. Please do not sign up unless you can attend ALL 5 live sessions!
Meet Your Teachers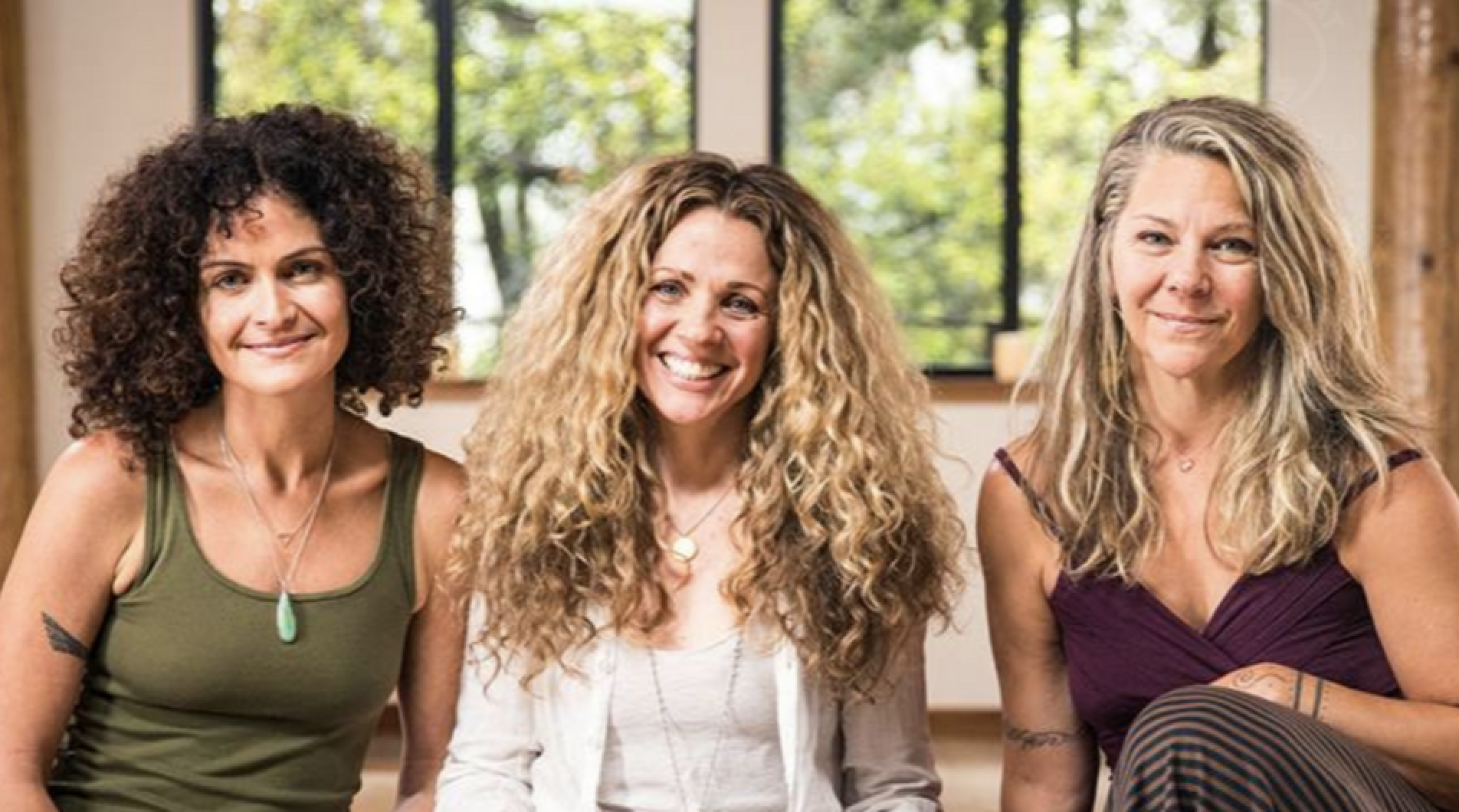 SEANE CORN is an internationally acclaimed yoga teacher and public speaker known for her social activism, impassioned style of teaching, and raw, honest and inspired self-expression. Over her 25-year teaching career, Seane has created many instructional DVDs, including her groundbreaking series The Yoga of Awakening with Sounds True. Featured on over 40 magazine covers and countless media outlets, Seane has chosen to use her platform to bring awareness to global issues including social justice, sex trafficking, HIV/AIDS awareness, generational poverty, and animal rights. In 2005, she was named "National Yoga Ambassador" for YouthAIDS, and in 2013 received both the Global Green International Environmental Leadership Award and the Humanitarian Award by the Smithsonian Institute. Since 2007, she has been training leaders of activism through her co-founded organization Off the Mat, Into the World®. Seane also co-founded the Global Seva Challenge, which has raised over $3.5 million by activating communities of yoga and wellness in fund and awareness raising efforts. Her first book Revolution of the Soul was published in Fall 2019.
HALA KHOURI has been teaching yoga and movement arts for over 25 years and has been doing clinical work and trainings for 15 years. She earned her B.A. in Psychology from Columbia University and an M.A. in Counseling Psychology and an M.A. in Community Psychology from Pacifica Graduate Institute. She is currently working on her doctorate in Community Psychology with an emphasis on Liberation Studies and Eco Psychology. Hala is one of the creators of Off the Mat, Into the World, along with Seane Corn and Suzanne Sterling. This is a non-profit organization dedicated to utilizing the tools of yoga and somatic practices within a justice framework to inspire people to be conscious leaders of change. Hala is trained in Somatic Experiencing, a body-based psychotherapy that helps resolve trauma and its symptoms and leads trauma-informed yoga trainings throughout the country. Hala also works with A Thousand Joys, training direct service providers and educators to be trauma-informed and culturally Responsive.
SUZANNE STERLING is a dedicated musician, yogi, activist and social innovator who has been performing and teaching transformational workshops for over 20 years. Suzanne has been a featured artist/teacher at numerous festivals and conferences such as, Wanderlust, Omega Institute, Esalen Institute, Kripalu, Yoga Journal and many more. She is also part of the nationwide faculty for Yoga Works Teacher Trainings. Co-founder of OTM as and director of the Seva Challenge Humanitarian Tours, Suzanne has co-curated programs throughout the US, India, Cambodia, Haiti, Ecuador and Africa working with communities in need of aid.
**Please note: you must be registered for the main Yoga, Purpose, & Action course to be eligible to attend this deep dive. Please register for the YPA main course first; REGISTER NOW
**You must also attend this deep dive LIVE, as it will NOT be recorded.

Please do not enroll until you can meet these requirements!