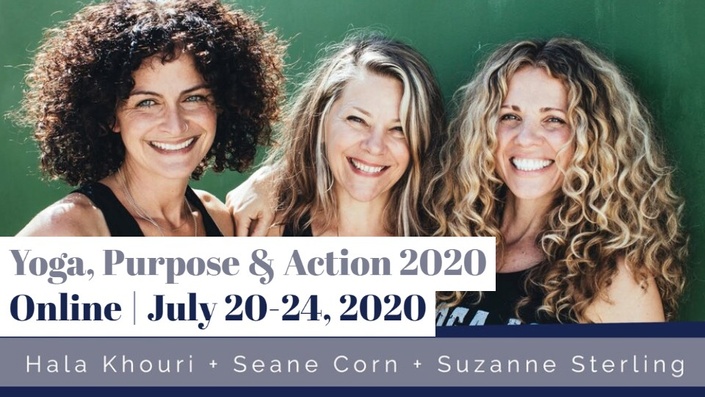 YOGA,PURPOSE, & ACTION 2020: COURSE RECORDING
Course Recording
With Seane Corn, Hala Khouri, and Suzanne Sterling
5 sessions, approximately 90 min. each

If you are unable to attend OTM's most popular training in person, this is the next best thing! Join OTM founders Seane Corn, Hala Khouri, and Suzanne Sterling on a journey from the inside out. Through understanding the mind/body connection, the role that trauma plays in shaping us, and how to express your authentic self, we will guide you towards discovering your role in making the world a better place.
Hundreds of people have taken the in-person version of this training, and they leave feeling inspired and activated. Although we cannot recreate online the same embodied experience of an in-person intensive, our goal is to share with you the information and lectures from this course and invite you to work with the information in your own life.
This course provides 7.5hrs of CE credit for Yoga Alliance
OTM founders, Seane Corn, Hala Khouri and Suzanne Sterling have been teaching the powerful 5 day Yoga, Purpose and Action Leadership Intensive for a decade. The work has evolved tremendously, and out of this growth they are launching the 2.0 version.

Yoga, Purpose and Action 2.0 is a 5 day leadership intensive for anyone wanting to discover, refine or expand their purpose in the world and live a life dedicated to justice and inside out transformation. We believe that collective liberation is the goal, and this requires a commitment to a personal journey of introspection, healing and accountability that allow us to participate in an effective and healthy way. We also believe that embodied practices like yoga, meditation and ritual are powerful tools for both self-inquiry and sustainability.

The arch of this training begins with a personal inquiry about the ways you have been shaped by your life experiences and how that influences how you see the world and participate. Next, we explore how to transform our wounds into our gifts, with a very practical and creative approach to taking action in conscious and collaborative ways. All of this is done within a context that acknowledges the systemic issues that shape our worldview and our actions.
OTM founders each get to share the essence of their work this week. This is a rare chance to be with three world renowned facilitators who model collaboration as one of the crucial tools for ongoing action.
This year we've added 2 full yoga classes to the curriculum to help you embody and explore the themes presented. We suggest you take Seane's class soon after her lecture on day 1, and Hala's soon after her lecture on day 2. (These will be prerecorded and offered in your curriculum.)
Monday: Yoga with Seane- focus on the mind body connection and chakras
Tuesday: Yoga with Hala- a trauma informed practice focused on building resilience
Meet Your Teachers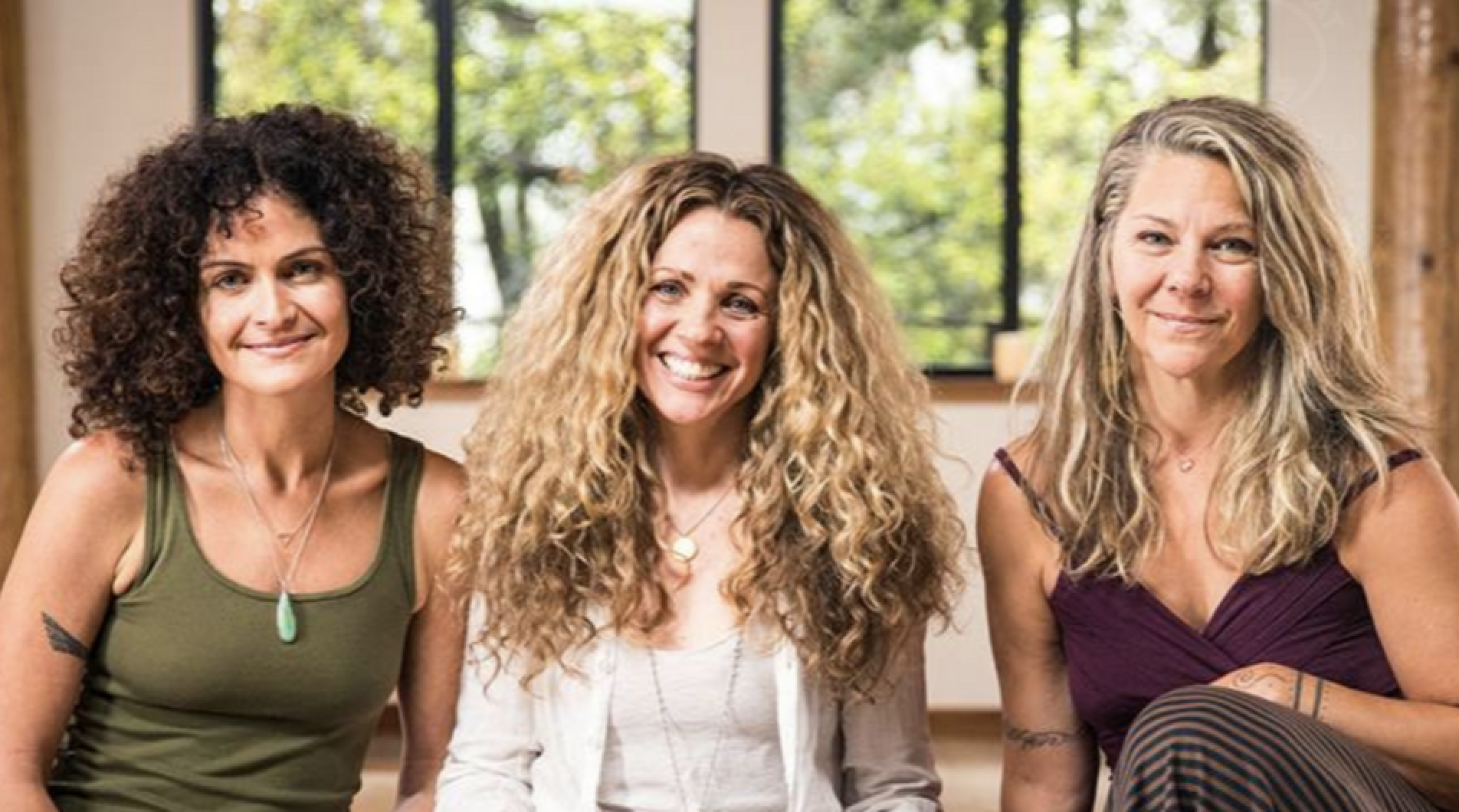 SEANE CORN is an internationally acclaimed yoga teacher and public speaker known for her social activism, impassioned style of teaching, and raw, honest, and inspired self-expression. Over her 25-year teaching career, Seane has created many instructional DVDs, including her groundbreaking series The Yoga of Awakening with Sounds True. Featured on over 40 magazine covers and countless media outlets, Seane has chosen to use her platform to bring awareness to global issues including social justice, sex trafficking, HIV/AIDS awareness, generational poverty, and animal rights. In 2005, she was named "National Yoga Ambassador" for YouthAIDS, and in 2013 received both the Global Green International Environmental Leadership Award and the Humanitarian Award by the Smithsonian Institute. Since 2007, she has been training leaders of activism through her co-founded organization Off the Mat, Into the World®. Seane also co-founded the Global Seva Challenge, which has raised over $3.5 million by activating communities of yoga and wellness in fund and awareness-raising efforts. Her first book Revolution of the Soul was published in Fall 2019.
HALA KHOURI has been teaching yoga and movement arts for over 25 years and has been doing clinical work and training for 15 years. She earned her B.A. in Psychology from Columbia University and an M.A. in Counseling Psychology and an M.A. in Community Psychology from Pacifica Graduate Institute. She is currently working on her doctorate in Community Psychology with an emphasis on Liberation Studies and Eco Psychology. Hala is one of the creators of Off the Mat, Into the World, along with Seane Corn and Suzanne Sterling. This is a non-profit organization dedicated to utilizing the tools of yoga and somatic practices within a justice framework to inspire people to be conscious leaders of change. Hala is trained in Somatic Experiencing, a body-based psychotherapy that helps resolve trauma and its symptoms and leads trauma-informed yoga training throughout the country. Hala also works with A Thousand Joys, training direct service providers and educators to be trauma-informed and culturally Responsive.
SUZANNE STERLING is a dedicated musician, yogi, activist, and social innovator who has been performing and teaching transformational workshops for over 20 years. Suzanne has been a featured artist/teacher at numerous festivals and conferences such as Wanderlust, Omega Institute, Esalen Institute, Kripalu, Yoga Journal, and many more. She is also part of the nationwide faculty for Yoga Works Teacher Trainings. Co-founder of OTM and director of the Seva Challenge Humanitarian Tours, Suzanne has co-curated programs throughout the US, India, Cambodia, Haiti, Ecuador, and Africa working with communities in need of aid.
This training includes:
Embodied Mysticism: a journey through the chakras with Seane Corn
Trauma: Personal, Interpersonal and Systemic Dynamics with Hala Khouri
Voice of Change: liberation, expression and truth telling with Suzanne Sterling
Embodied Social Justice: power, privilege and positionality. How we are shaped by the larger systems we live in.
Purpose and Action: what does conscious engagement look like and what do you need to move forward towards living a life of meaning and sustainability dedicated to justice for all beings.
This training is for people looking to vision, articulate and live fully their purpose as well as those deeply steeped in their work but who need community and support We are committed to creating a space where people of all genders, gender identities, races, abilities, body size and sexual orientation feel included.


If you have already done our 5 day intensive, we suggest considering doing this one. Our trainings have evolved tremendously and people who have repeated the course have expressed that it was highly beneficial and strengthened their work in the world.
Frequently Asked Questions
How long do I have access to the course?
We typically allow access until the next offering is available (2021) and can only guarantee 90 days!
This course is not open for enrollment.