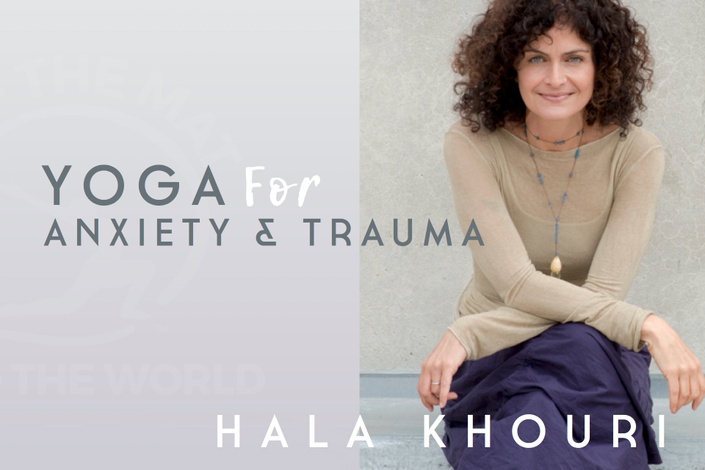 YOGA FOR ANXIETY AND TRAUMA: COURSE RECORDING 2018
How to Make Your Yoga Practice Truly Healing with Hala Khouri
PURCHASE RECORDING
2 sessions, 60 min. each
This course provides 2 hrs of CE credit for Yoga Alliance
If you have experienced trauma, are exposed to others struggling with trauma's impact, or are dealing with the stress of everyday life, yoga can help you. Yet sometimes people don't feel comfortable in yoga classes, and this can be due to many reasons such as feeling intimidated by the practice, not feeling like you fit in, or finding that the practice makes you feel more anxious or out of balance.
During this workshop, Hala Khouri, a yoga teacher and somatic trauma counselor, will share with you some specific techniques and pieces of information to empower you to make your practice truly healing. Whether you go to group classes or practice at home, this course will offer you some tools to incorporate into your practice as well as tips on how to find the right yoga teacher or style to suite your specific needs. Just because it's yoga doesn't mean it is healing, and sometimes it can even be harmful. Hala believes that yoga students should feel empowered to make choices in their practice that work for them, not just take instructions passively from a teacher. She also believes that with a few minor adjustments, you can transform your practice into one that supports you to feel more grounded, regulated, and balanced.*
We will explore topics such as:
Basic physiology of stress and trauma
How to make your yoga practice work for you at home or in a group class.
What style of yoga is good for you given your history and how you react to stress?
What kind of teacher is best for you?
Are group classes right for you or would privates be better?
Is it OK for a teacher to touch you without asking permission?
Is it OK to modify your practice even if the teacher isn't offering you the option?
What are appropriate boundaries between a student and teacher?
How to create a home practice.
What the goal of a healing yoga practice are.
What does it mean to be "advanced"?
This course is appropriate for people brand new to yoga or just thinking about trying yoga as well as experienced practitioners and teachers wanting to deepen their practice.
*NOTE: yoga should never be used to replace good mental health counseling. Yoga in conjunction with counseling is what has been found to be effective in treating trauma symptoms
Meet Your Teachers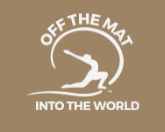 Month 1: The Foundations of Transformation. Discover and practice the essential building blocks for healing with Seane Corn, Hala Khouri, Suzanne Sterling, Jivana Heyman, Nikki Myers, and Teo Drake. Before any healing can begin, we have to confront what needs to be healed and release anything that might be in the way. During the first month, your teachers will share different practices for embodiment, reflection, and regulation. Together, we will set a foundation for an accessible yoga practice - a powerful tool for getting present, cultivating a sense of self-awareness, and uncovering the root of who we are and where the seeds of healing lie.
__________________________________________________________________________
Month 2: Understand the Mind-Body Connection for All Bodies. Discover the power of the chakra system, the physiology of resilience, and learn how we can practice compassion in our bodies as they are with Seane Corn, Hala Khouri, RW Alves, and Anusha Wijeyakumar. This month is dedicated to the mind-body connection and the different philosophies and paradigms that help us understand this connection. We'll do this through the lens of ancient practices and philosophies like yoga and mysticism. We will also learn about the physiology and neuroscience that mirrors these ancient ideas. Finally, we explore the role of colonization in contributing to our collective disembodiment and how a decolonial lens is vital to an authentic examination of what integration and re-embodiment are. These different bodies of work can offer a roadmap to knowing yourself and understanding those around us and the world we live in.
__________________________________________________________________________
Month 3: Build Healthy Relationships. Learn the psychology and physiology behind our interdependence and discover the difference between healthy dependence and unhealthy attachment, using techniques that support communication across all differences with Suzanne Sterling, Nikki Myers, Kyra Haglund, and Hala Khouri. We are social beings. We need healthy, supportive relationships in order to be well. This month we will learn about the psychology and physiology of our interdependence and how to distinguish healthy dependence with unhealthy attachment rooted in trauma. We will learn about practices to create healthy attachment patterns with other and communication practices to support us to connect despite our differences. Many of us have trauma related to expressing ourselves freely, reclaiming our voice can allow us to not only heal within ourselves but become agents of change in the service of collective liberation and change.
__________________________________________________________________________
Month 4: Find Your Place in the Movement. Discover your unique role in building the future that we all deserve with Jacoby Ballard, Kerri Kelly, Michelle Cassandra Johnson, Susanna Barkataki. Critical consciousness is our awareness of who we are within the larger socio-political context. It is a vital part of our self-reflection practice and, more importantly, self-accountability and responsibility in our movement towards collective care and liberation. This month will offer you a foundation in decolonial practices and social justice. We will make the connections between yoga and collective liberation and care. Ultimately, as we locate ourselves within this larger web of dynamics, this can help us know what our particular role might be in creating the Beloved Community that Martin Luther King, Jr spoke about.
__________________________________________________________________________
Month 5: Re-imagine our Future Together: Take part in creating a collective vision of social change with Rev. angel Kyodo williams, RW Alves, Dr. Sará King, Carrington Jackson, and Abby Wills. This month is all about activating our collective imagination. If trauma is a loss of imagination, individually and collectively, then practicing imagining is an antidote. This month, we will practice imagining and envisioning a new world, new possibilities, and new ways of showing up in our lives. We will investigate what yoga in action looks like, practice everyday activism to align with our purpose and discuss how we can give rise to young voices with a vision for social change.
__________________________________________________________________________
Month 6: Create & Commit to a Path of Action - Envision your next steps, then commit to a plan with support from the community so you can begin to initiate meaningful change with Natasha Baebler, Laura Sharkey, Teo Drake, Tessa Hicks Peterson, Acosia Red Elk, and a special closing of the program with OTM Founders. During our final month together, we'll explore these questions: What actions do you want to seed and take? What does it mean to be an engaged citizen? What role do you have to play in this new world we want to co-create? Activism is different for everyone, and this month you'll be inspired to reflect on your particular work in the world through an intersectional lens. We will look at how coloniality and dominator culture show up in our activism and how we can resist both and show up in a new way that embodies the values of radical inclusivity, collaboration and transformative change.
Course Curriculum
First Section
Available in days
days after you enroll