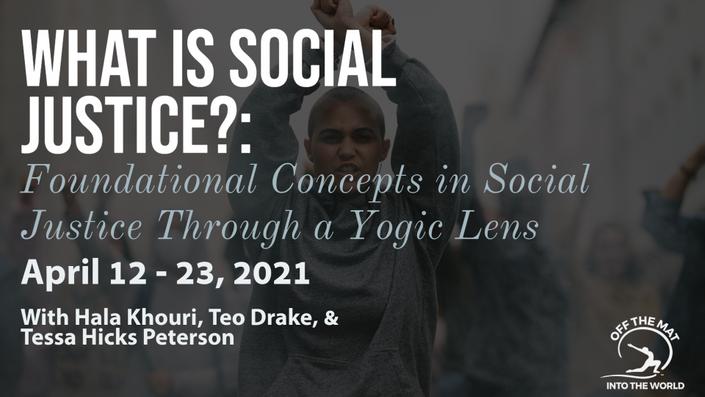 WHAT IS SOCIAL JUSTICE? Foundational Concepts in Social Justice Through a Yogic Lens: Course Recording
COURSE RECORDING
Please Note: You will have access to course recordings until Saturday, June 18th, 2022
It's not enough to be compassionate, you must act. - Dalai Lama
As yoga practitioners, we often talk about how we are all connected. We strive, through our practice, to break apart the illusion of separation so that we can feel that we are all One. At the same time, our world is wracked with profound unrest and struggle.
How can we rectify these two truths—the centrality of interconnection to our practice and our yoga community and the fact that we live in a culture that so clearly does not uphold this value? And what is the role of yoga practice and yoga community in a journey to help create a better world?
Hala Khouri, Teo Drake, and Tessa Hicks Peterson created this course as a response to hearing again and again from people who want to make a difference but don't know where to begin; people who are interested in social justice but overwhelmed by the magnitude of inequality and oppression in the world. It's a perfectly human response in the face of overwhelming injustice to feel frozen and unsure what to do. This course will provide the grounding and connection to take your practice to the next level and find your place in larger movements for social change.
In six 90-minute sessions, you will experience:
An accessible introduction to the underpinnings of injustice in current U.S. culture
A framework for locating your own identity and position within our larger culture
How to connect your yoga practice and community as tools for effectively engaging in social justice.
In this course we will introduce and utilize the practice of "compassionate communication" as a way of creating an openhearted and resilient learning, engage with challenging material, take risks together, and strengthen our ability to connect across lines of difference. We will also discuss (and practice) yoga as a tool for remaining openhearted and engaging with unfamiliar and uncomfortable things from a place of care, compassion, and curiosity — learning how to stay embodied, present, and grounded in the face of discomfort.

Topics will include:
Off the Mat's philosophy of how yoga and social justice are linked
Introduction to prejudice, oppression, power, and privilege
Identity and positionality: mindfulness around the role of the self within activism
Compassion practice as central to sustaining heartbreak and sitting in discomfort
Engaging in social justice: how to approach meaningful activism


At OTM, we are committed to accessibility and cultivating diversity in our community and trainings. If you would like to request a discounted rate, please email

[email protected]

and answer the following questions:
If you are from, or belong to, a community that is often under-represented in the yoga community at-large, please describe.
How do you foresee using the skills and information offered in this training in your work in the world?
DISABILITY JUSTICE is a conversation and practice we are moving to the forefront of our work with OTM. If you have specific accessibility needs that would better support you while participating in any of our online courses, we'd greatly appreciate your input. To make requests and/or ask any questions, please email: [email protected]
Meet Your Teachers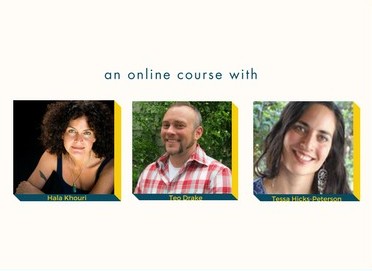 Hala Khouri, M.A., SEP, E-RYT, has been teaching yoga and the movement arts for over 25 years and has been doing clininical work and trainings for 15 years. She earned her B.A. in Psychology from Columbia University and an M.A. in Counseling Psychology and an M.A. in Community Psychology from Pacifica Graduate Institute. She is currently working on her doctorate in Community Psychology with an emphasis on Liberation Studies and Eco Psychology. Hala is trained in Somatic Experiencing, a body-based psychotherapy that helps resolve trauma and its symptoms.
Hala is a co-founder of Off the Mat, Into the World, a training organization that bridges yoga and activism within a social justice framework. She leads trauma informed yoga trainings nationally. She has been in private practice for 10 years working with individuals and couples. Hala also works with A Thousand Joys training direct service providers and educators to be trauma informed and culturally responsive. She is a sought-after speaker and trainer on the subject of trauma, yoga and social justice. She lives in Venice, CA with her husband and two sons where she also teaches public yoga classes weekly.
Teo Drake is a spiritual activist, an educator, practicing Buddhist and yogi, and an artisan who works in wood and steel. A self-described "blue-collar, queer-identified trans-man living with AIDS," Drake channels his activism into the intersections of gender, sexuality, race, class, ability, and spirituality. He sees compassion as being central to building a just world, and therefore compassion is central to his spiritual grounding and compassion practices are at the core of his teaching and trainingsHe is a board member and on faculty with Off the Mat, Into the World; a member of the advisory board of the Transgender Law Center's project Positively Trans; part of the poor and blue collar national working group for Showing Up for Racial Justice (SURJ); and a founding member of the Transforming Hearts Collective. His writing appears in the anthology Yoga and Body Image and at the blog rootsgrowthetree.com.
When he isn't helping spiritual spaces be more welcoming and inclusive of queer and transgender people or helping queer and trans folks find authentic spiritual paths, Teo Drake can be found teaching martial arts, yoga, and woodworking to children.
Tessa Hicks Peterson the Assistant Vice President for Community Engagement and Assistant Professor of Cultural Studies at Pitzer College, where she has been teaching since 2006. Her research interests revolve around social movements, indigenous studies, community-based teaching, learning and research, and the links between individual well-being and community building/ social change. In her many years as the director of an anti-bias education institute and continuing today as a consultant, Tessa has conducted hundreds of diversity trainings, anti-bias education seminars and workshops on a variety of social justice issues across the county. As a scholar, Tessa has conducted community-based research projects around issues of poverty and economic success with families in Los Angeles, notions of cultural affirmation and de-colonization of native practices in the Andes of Peru, the links between spirituality and social justice for activist professionals in Los Angeles, and the impact of engaged scholarship and service-learning on students, faculty, staff, and community partners at Pitzer College.
This course is not open for enrollment.