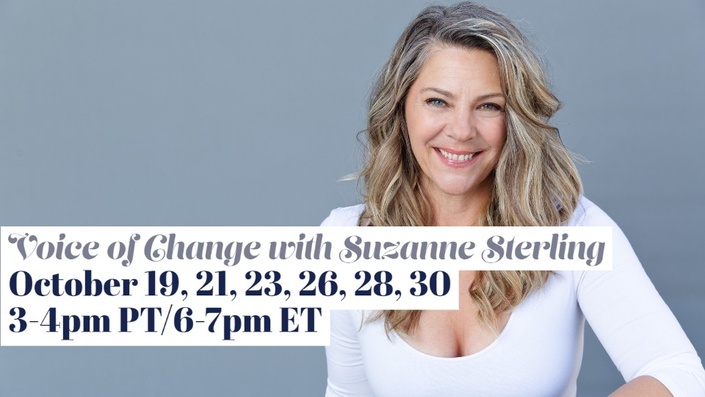 VOICE OF CHANGE
October 19 - 30, 2020
Do you yearn to stand in your own power and speak your truth? Is it time to listen to the poetry of your own soul and the wisdom of your sacred intuition? Would you like to take your spiritual work out into the world in embodied, compassionate, and active ways?

Voice of Change with Suzanne Sterling is designed to develop and strengthen your ability to live, express, and embody your truth. We will explore ways to heal the deep-seated patterns and stories that keep us silent & invisible, uncover the soul of expression that lives inside you, and celebrate your creativity & artistry in powerful ways. You will then be guided in taking steps to become an effective agent-of-change by using self-expression, ritual, and community-building to support social justice and creative evolution. Voice of Change invites our embodied truth to become our message, our medicine, and our direct action.
You will learn:
how to unlock your creative potential and find the self-expression that fits you best
to understand and heal the core traumas that keep you protected but shut down
to understand the science of sound healing as well as how to use your own voice as a tool for empowerment
how the basic energy system of the body works and how to unlock the 5th chakra for purification & liberation
how to reclaim your voice from the situations & people that forced you to hide your authentic voice
how to awaken your own intuitive leadership skills and remove blocks to power & confidence
to become a wordsmith who uses words and songs to awaken, heal, and empower others
how to integrate the sacred into your life, art, and work
Course Details:
Facilitator: Suzanne Sterling, Off the Mat, Into the World Co-Founder
Dates: Mondays, Wednesdays & Fridays October 19, 21, 23, 26, 28, 30(6 sessions, 60 min. each)
Time: 3:00-4:00pm PT / 6-7:00pm ET
Course Recordings: Sessions are recorded and available by the next evening following each session and will be available for 30 days after the final session.
Meet Your Teachers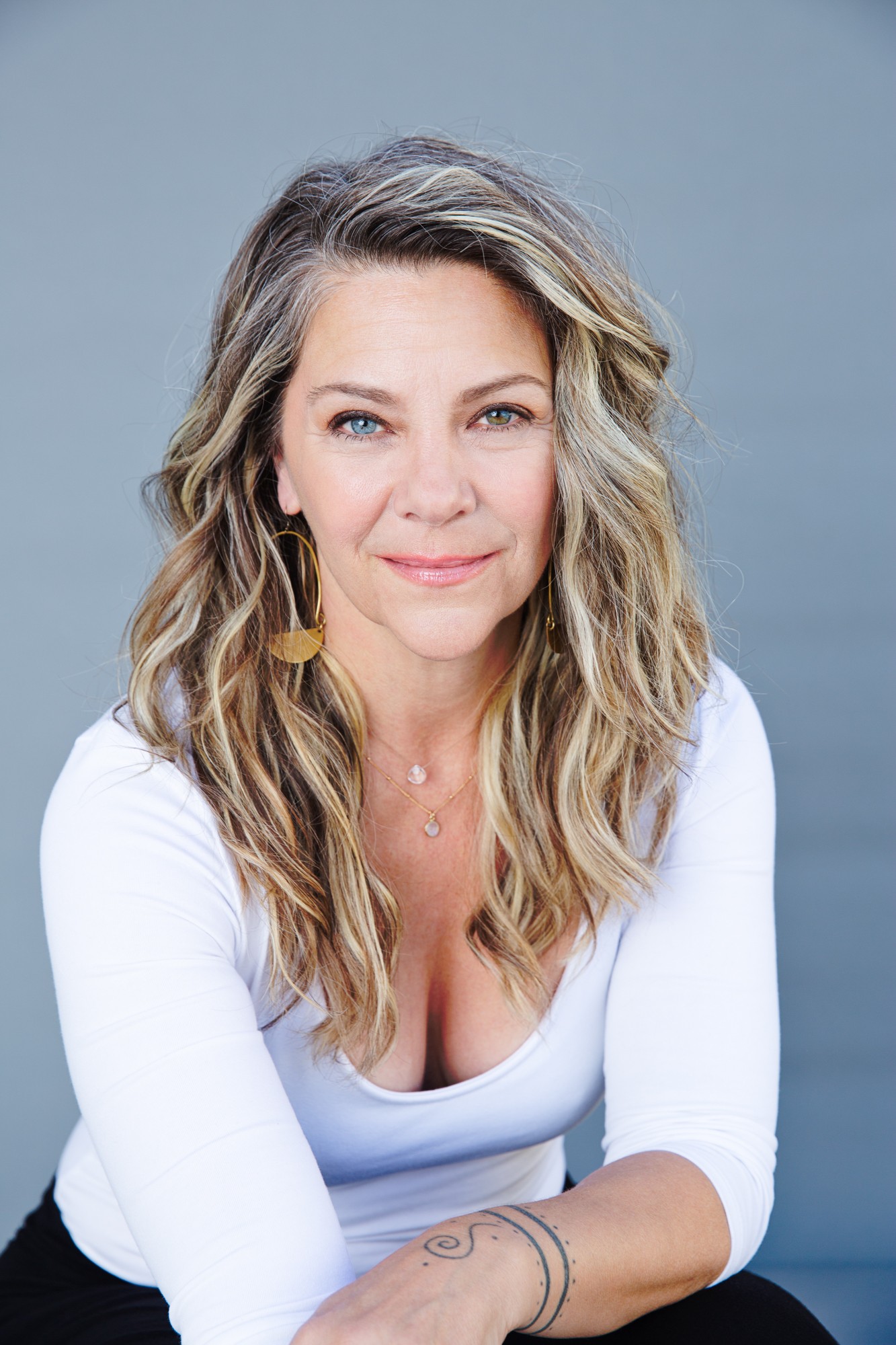 Suzanne Sterling is a musician, yogi, and activist who has been performing and teaching transformational workshops for over 20 years. She is founder of Voice of Change offering programs that inspire others to find their unique voice and use self expression as a tool for conscious evolution. Suzanne has been featured at hundreds of international festivals and conference centers including Omega, Esalen, Wanderlust, Kripalu, Symbiosis, Bhaktifest, Boom and many more. Since 2007 she has been training leaders in spiritual activism and social justice through her co-founded organization Off The Mat, Into the World. As director of the Seva Challenge, which raised over $4 million, she has spent time in the US, India, Cambodia, Haiti, Ecuador and Africa working in community resilience. For 25 years, she has worked with the International Reclaiming Community, creating ritual and training teachers. She is co-facilitator of the Priestessing Apprenticeship in Sacred Leadership offering immersions into the art of ritual for the modern world. An award winning musician, she has released 5 solo albums and numerous DVD soundtracks. www.suzannesterling.com
"One of the main things that's holding us back, even if we have had the privilege and the time to do healing work on ourselves, is a fear of using our own voice."
- Suzanne Sterling
This course is not open for enrollment.
Frequently Asked Questions
When does the course start and finish?
This 6-session course is held on Tuesdays and Thursdays from September 10, 2019 - September 26, 2019 live online via zoom.
Will the courses be recorded?
Sessions are recorded and will be uploaded to your curriculum dashboard within 24 hours following each session. These recordings will only be available for 30 days after the final session.
How long do I have access to the course?
The course recordings will only be available for 30 days after the final session.
Why do you offer sliding scale pricing?
At Off the Mat, Into the World we are committed to cultivating a diversity of voices and life experiences in our trainings and making them accessible to people of all income levels. If you can afford to, please consider paying it forward. This allows us to continue scaling the prices so that everyone is included.
What people are saying about Voice of Change:
"The voice workshop you did with us changed everything for me. The opening you created, the fearlessness, the creative power, the absolute joy - I took all of it with me. Everything in my role as a teacher has changed since then in a way that opens up so much potential to do exponentially more for so many kids." - Alex Gandy
"Suzanne Sterling's Voice of Change class was transformational for me. Suzanne's practice – and the practice she shares with students – is both expansive and grounded, practical and profound, unabashedly mystical at the same time it is very much of this life, in present time and place. She teaches a practice that embraces both acceptance of what is and imagination and curiosity about what might be. Suzanne is unerringly compassionate and welcoming. She holds space that is as safe and conducive to personal exploration as is possible, without shying away from the uncomfortable and scary aspects of rigorous self-inquiry." - Laura Sharkey
"Suzanne's work and the Voice of Change modality is LIFE.CHANGING. Going through it myself I felt like a part of myself that had been missing had been found again." - Lisa Nixon
"This workshop was about finding not only our authentic physicalvoice, but about finding our authentic truth and being courageous enough to share that rawness in community. We were pushed to the edges of our comfort zone in what we thought we could do with our voices and with our bodies. For me, I learned a deeper practice of how sound heals, how each note lives within my body, how poetry is written when you least expect it, and I left inspired to share what I learned with others, to create community and to serve all life." - Shanti