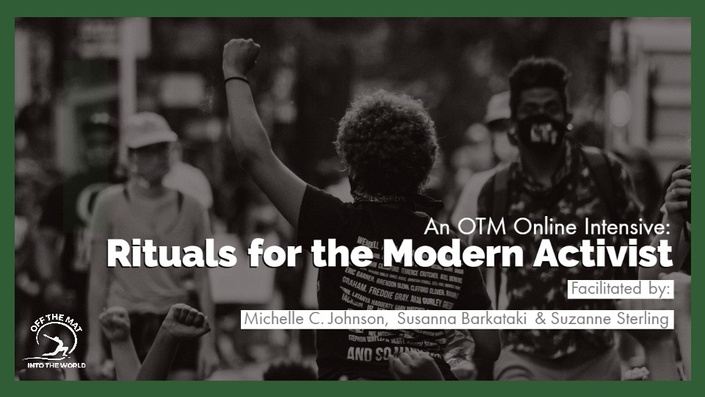 RITUALS FOR THE MODERN ACTIVIST
SEPTEMBER 8 - 11, 2020
In this time of distancing and great changes in the ways that we build community, we need connective rituals more than ever. With commitment to engaged and embodied presence, we can absolutely do this online!
It is time for the collective to reconnect with self, community, the earth and Source. White supremacy and oppression have separated us from the earth, our inner knowing, one another, and Spirit. Remembering the ancient art of ritual or practices that reconnect can offer ways to heal ourselves and the collective. Co-creating rituals as part of our embodied activism can help us by grounding our justice work in a context of life affirming interdependence.
Coming from very different backgrounds, Michelle, Suzanne and Susanna each have many years of experience in facilitating ritual for different needs and communities. In this workshop they are dedicated to creating a container for deep remembering and acknowledging the political and cultural systems causing suffering for people and the planet. We will explore how to meet these times in a grounded and purposeful way through movement, meditation, discussion, song, and work with the sacred elements of life.
In this training we will:
Define spiritual bypassing and explore the impact it has on communities most marginalized by dominant culture
Clarify the difference between cultural appropriation vs. respecting, honoring, and being creative with our practices
Engage with our ancestors through story Acknowledge ancestral and intergenerational trauma Honor what it means to reckon with what arises when we reach back to those who came before us.
As we find an embodied and authentic connection with the sacred, and each other, we'll tap into new ways to let this work inform our activism and our actions in the world. The workshop space will be a place for grieving and deepening self-awareness of power, privilege and intersectionality-all in the spirit of healing. Through it all, we will collectively explore co-creating rituals, founded in an embodied understanding of interdependence and connection.
If you are looking for ways to include the sacred arts into your life and work, with a clear sense of respect and informed creativity; if you are seeking a deeper understanding of how to use ritual as a tool for justice and community; if you would like to learn skills and tools for creating rituals that matter and meet the needs of our times, then we invite you to join us.
4 LIVE sessions- between 2-3 hours each day will include in depth discussion and community ritual You will also receive 3 unique yoga practices taught by each of the facilitators. These practices will be designed to support integration of the live discussions and rituals In addition you will receive 3 short ritual practices to implement at home and a comprehensive information packet to support the work.
Please Note: Our intention is to create a virtual version of what is normally an in-person experience. We encourage you to be as present as possible throughout the week to embody the full experience. Course recordings will be available to all participants on Monday, September 14 - Monday, September 28.

***Please note that each day has a different start and end time.***

Day 1: Tuesday 9/8
3 - 6pm pst / 6 -9pm est
Day 2: Wednesday 9/9

1 - 3pm pst / 4 - 6pm est
Day 3: Thursday 9/10

3 - 5pm pst / 6 - 8pm est
Day 4: Friday 09/11
1 - 3pm pst / 4 - 6pm est
Meet Your Teachers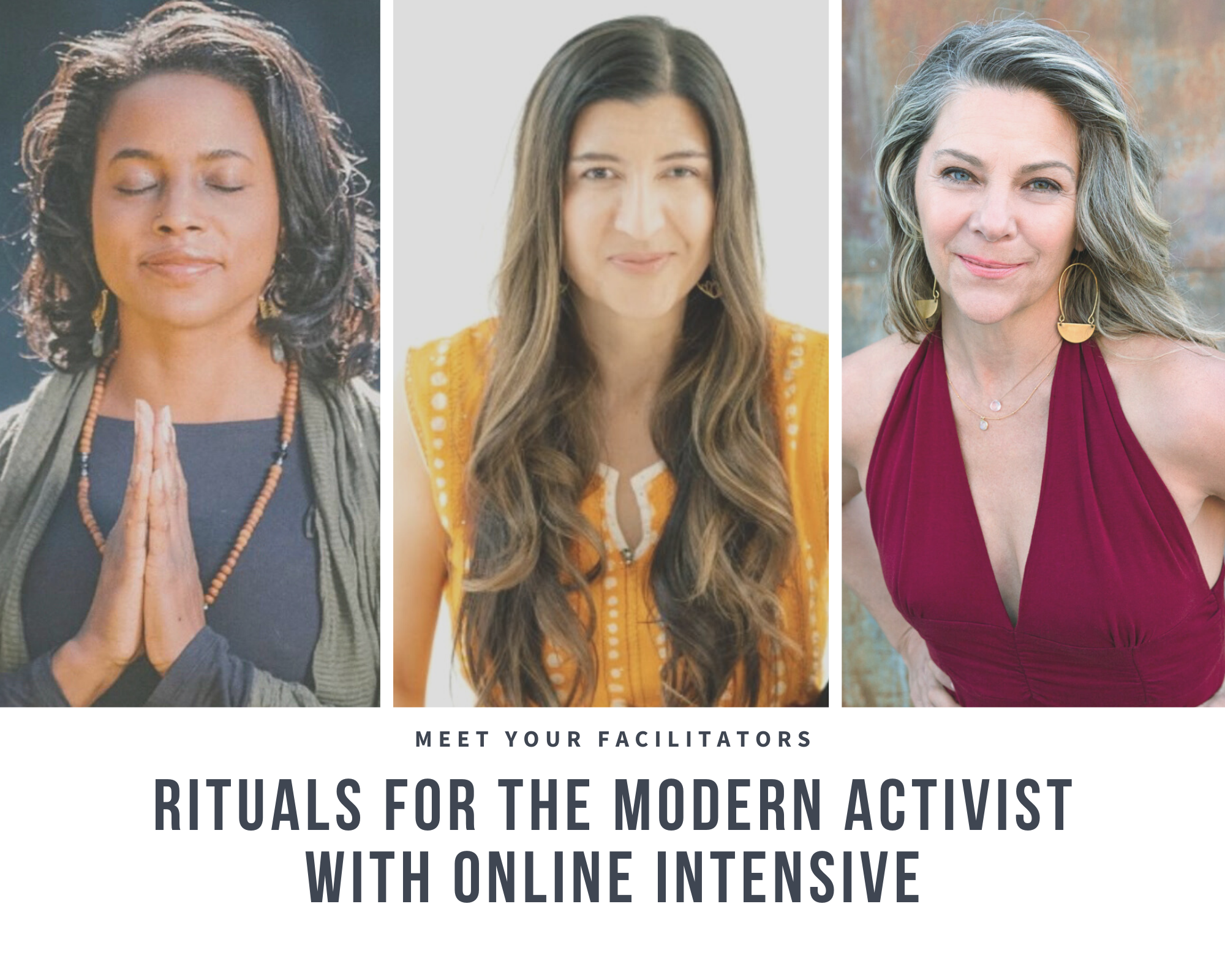 Michelle C. Johnson is an author, yoga teacher, social justice activist, licensed clinical social worker and Dismantling Racism trainer. She approaches her life and work from a place of empowerment, embodiment and integration. With a deep understanding of trauma and the impact that it has on the mind, body, spirit and heart, much of her work focuses on helping people better understand how power and privilege operate in their life. She explores how privilege, power and oppression affects the physical, emotional, mental, spiritual and energy body. She is a social justice warrior, empath, yoga teacher and practitioner and an intuitive healer. Whether in an anti-oppression training, yoga space, individual or group intuitive healing session, healing and wholeness are at the center of how she approaches all of my work in the world. She has spent many years on the front lines of justice movements craving a space for healing through ritual, ceremony and sacred practice. While working in many non-profits with missions focused on justice she didn't find a space that centered healing as a tool to create justice. So, she created her own space and way of working.
Michelle creates healing spaces in many different ways working with individuals and groups. She leads anti-racism trainings, yoga workshops focused on the intersection of justice and yoga and she offers intuitive healing sessions to support social justice workers, healers and activists who are on the front lines and struggling with how to sustain themselves as they do their good work in the world. Michelle has a background as a licensed clinical social worker and she has been teaching yoga for ten years. She began her own teacher training in 2014 and recently wrote a book about yoga and justice, Skill in Action: Radicalizing Your Yoga Practice to Create a Just World. Michelle inspires change that allows people to stand in their humanity and wholeness.
Susanna Barkataki is a teacher, coach, inclusivity promoter and yoga culture advocate. She helps yoga teachers, studios, nonprofits and businesses become leaders in equity, diversity and yogic values so they can embody thriving yoga leadership with integrity and confidence.
Growing up a mixed Indian and British woman in the diaspora has led her to the healing work of honoring yoga as unity. She puts her Honors degree from UC Berkeley, Masters in Education, years of training, retreat in India and the U.S. to use as a modern day yoga diversity consultant. She is the founder of Ignite Yoga and Wellness Institute that has online and in person yoga and diversity trainings.
Susanna loves to learn as much as she love to coach and teach. She has an E-RYT 500 hour Master Teacher certification, a 500-Hour Certified Ayurvedic practitioner and is a C-IAYT Yoga Therapist. She consults around the world for individual teachers to local studios to Yoga Alliance and Yoga Girl. She loves to assist people in bringing their yoga offerings successfully in line with their values.
She runs a Yoga Leadership and Safe Space Mastermind, that offers teaching and coaching in small groups so yoga teachers, studios, classes, and programs are well prepared to be inclusive, accessible and welcoming while honoring the roots of yoga.
Suzanne Sterling is a dedicated musician, yogi, activist and social innovator who has been performing and teaching transformational workshops for over 20 years. She is a passionate facilitator of embodied healing and her unique style is a deep yet ecstatic journey into the heart of creativity, authentic connection with Source, and joyful service.
She has been a featured artist/teacher at numerous festivals and conferences such as, Wanderlust, Omega, Esalen, Kripalu, Yoga Journal, Hanuman, Burning Man, Symbiosis, Ecstatic Dance, Bhaktifest, Boomfest, LIB, Earthdance (where she led the world's largest Spiral Dance for 5000 people) and many more. She is also part of the nationwide faculty for YogaWorks Teacher Trainings.
She is a co-founder of OTM as well as the director of the Seva Challenge Humanitarian Tours, which have raised over $4 million. Since 2007, she has spent time in the US, India, Cambodia, Haiti, Ecuador and Africa working with communities in need and getting the yoga community involved in fund- and awareness-raising efforts across the globe.
For many years she has worked with Starhawk and the International Reclaiming Community, creating ritual and training teachers in eco-feminist spirituality. An award-winning musician, she has released 5 solo albums and numerous DVD soundtracks. She recently launched Voice of Change Training Programsdedicated to inspiring others to find their unique voice and to use self expression as a tool for community building and conscious evolution. SUZANNE STERLING
Course Curriculum
Welcome to Rituals for the Modern Activist
Available in days
days after you enroll
Frequently Asked Questions
How long do I have access to the course?
Course recordings will be made available to all participants for two weeks after the course ending, but then will be discontinued. There will be no extensions.
When are the live courses offered?
Please note that each day has a different start and end time.
When are the live courses offered?
Please note that each day has a different start and end time.
At OTM, we are committed to accessibility and cultivating diversity in our community and trainings. BIPOC are encouraged to apply. If would like to request a discounted rate, please email
[email protected]
and answer the following
BEFORE MONDAY SEPTEMBER 7th
:
If you are from, or belong to, a community that is often under-represented in the yoga community at-large, please describe.

How do you foresee using the skills and information offered in this training in your work in the world?
This course is not open for enrollment.