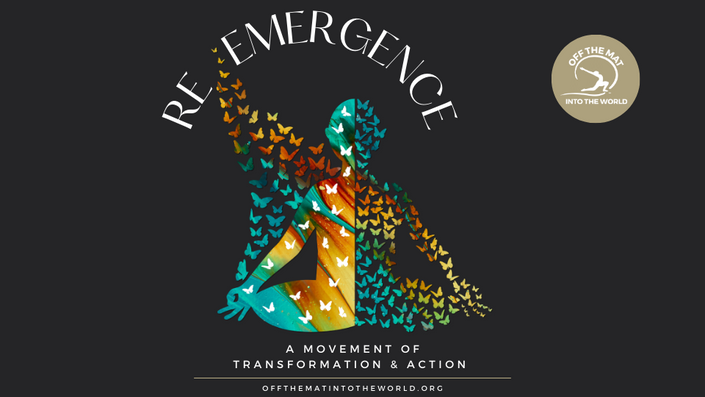 Re-Emergence: A Movement of Transformation & Action / 6-Month Training
July 5 - December 17, 2021
Enroll in Course
How can we go back to normal when "normal" is what got us here in the first place?
After a full year of challenges from a global pandemic to political upheaval caused by systemic issues within our society, we cannot simply go back to the way things used to be. If we do, more chaos is inevitable.
Today, after so much death and loss from COVID, the stress and isolation of quarantines and the rise in awareness of racialized and identity based violence we are faced with an opportunity to re-emerge and move forward toward actively building the world we desire to live in... But the question many struggle with is, how?
This 6-month program is designed to answer that question. Everyone's journey is different, but if the reality we desire to see is justice, equality, love and respect for all beings , then our practice must be grounded in that vision, and we must work together to achieve it.
Re-Emergence was created to support and guide you in finding your path toward a new way of living. We've gathered our wisest faculty and community members to share their knowledge and support you in identifying and working towards your own role in living a life oriented towards healing and collective liberation and well-being.
If you're ready to rise from these trying times with more integrity and authenticity than ever before and actively work toward making tangible change in the world, this program is for you.

Let's Re-Emerge, redesign, and rebuild our future together.
PROGRAM OUTLINE
Each week will consist of 3 (three) online offerings that will tie into one another and take you on a full experiential journey. The arc and content of this training have been very carefully designed, in deep collaboration with an incredible list of community leaders, activists, and educators.
Monday Lecture: 2 - 3:15pm PDT | 5 - 6:15pm EDT
Wednesday Practice: 9 - 10:15am PDT | 12 - 1:15pm EDT
Friday Meditation: 9 - 10am PDT | 12 - 1pm EDT
All sessions will be LIVE, however, we understand not everyone can commit to attending live at all times. All sessions will be recorded and participants will receive a link to the recording within 24 hours.
At OTM, we are committed to accessibility and cultivating diversity in our trainings. If you would like to request a discounted rate on this program, please email c[email protected] and in the subject line, please reference "Discount Code Request."
Inclusivity is important to us, and we strive continually to increase accessibility to our trainings. If you have specific accessibility needs that would better support you while participating in any of our online courses, we'd greatly appreciate your input and/or feedback. To make requests and/or ask any questions, please email: [email protected]
Meet Your Teachers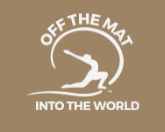 Month 1: The Foundations of Transformation. Discover and practice the essential building blocks for healing with Seane Corn, Hala Khouri, Suzanne Sterling, Jivana Heyman, Nikki Myers, and Teo Drake. Before any healing can begin, we have to confront what needs to be healed and release anything that might be in the way. During the first month, your teachers will share different practices for embodiment, reflection, and regulation. Together, we will set a foundation for an accessible yoga practice - a powerful tool for getting present, cultivating a sense of self-awareness, and uncovering the root of who we are and where the seeds of healing lie.
__________________________________________________________________________
Month 2: Understand the Mind-Body Connection for All Bodies. Discover the power of the chakra system, the physiology of resilience, and learn how we can practice compassion in our bodies as they are with Seane Corn, Hala Khouri, RW Alves, and Anusha Wijeyakumar. This month is dedicated to the mind-body connection and the different philosophies and paradigms that help us understand this connection. We'll do this through the lens of ancient practices and philosophies like yoga and mysticism. We will also learn about the physiology and neuroscience that mirrors these ancient ideas. Finally, we explore the role of colonization in contributing to our collective disembodiment and how a decolonial lens is vital to an authentic examination of what integration and re-embodiment are. These different bodies of work can offer a roadmap to knowing yourself and understanding those around us and the world we live in.
__________________________________________________________________________
Month 3: Build Healthy Relationships. Learn the psychology and physiology behind our interdependence and discover the difference between healthy dependence and unhealthy attachment, using techniques that support communication across all differences with Suzanne Sterling, Nikki Myers, Kyra Haglund, and Hala Khouri. We are social beings. We need healthy, supportive relationships in order to be well. This month we will learn about the psychology and physiology of our interdependence and how to distinguish healthy dependence with unhealthy attachment rooted in trauma. We will learn about practices to create healthy attachment patterns with other and communication practices to support us to connect despite our differences. Many of us have trauma related to expressing ourselves freely, reclaiming our voice can allow us to not only heal within ourselves but become agents of change in the service of collective liberation and change.
__________________________________________________________________________
Month 4: Find Your Place in the Movement. Discover your unique role in building the future that we all deserve with Jacoby Ballard, Kerri Kelly, Michelle Cassandra Johnson, Susanna Barkataki. Critical consciousness is our awareness of who we are within the larger socio-political context. It is a vital part of our self-reflection practice and, more importantly, self-accountability and responsibility in our movement towards collective care and liberation. This month will offer you a foundation in decolonial practices and social justice. We will make the connections between yoga and collective liberation and care. Ultimately, as we locate ourselves within this larger web of dynamics, this can help us know what our particular role might be in creating the Beloved Community that Martin Luther King, Jr spoke about.
__________________________________________________________________________
Month 5: Re-imagine our Future Together: Take part in creating a collective vision of social change with Rev. angel Kyodo williams, RW Alves, Dr. Sará King, Carrington Jackson, and Abby Wills. This month is all about activating our collective imagination. If trauma is a loss of imagination, individually and collectively, then practicing imagining is an antidote. This month, we will practice imagining and envisioning a new world, new possibilities, and new ways of showing up in our lives. We will investigate what yoga in action looks like, practice everyday activism to align with our purpose and discuss how we can give rise to young voices with a vision for social change.
__________________________________________________________________________
Month 6: Create & Commit to a Path of Action - Envision your next steps, then commit to a plan with support from the community so you can begin to initiate meaningful change with Natasha Baebler, Laura Sharkey, Teo Drake, Tessa Hicks Peterson, Acosia Red Elk, and a special closing of the program with OTM Founders. During our final month together, we'll explore these questions: What actions do you want to seed and take? What does it mean to be an engaged citizen? What role do you have to play in this new world we want to co-create? Activism is different for everyone, and this month you'll be inspired to reflect on your particular work in the world through an intersectional lens. We will look at how coloniality and dominator culture show up in our activism and how we can resist both and show up in a new way that embodies the values of radical inclusivity, collaboration and transformative change.
Frequently Asked Questions
When does the course start and finish?
The course begins on Monday July 5th and we'll have our last day on Friday, December 17th. All sessions will be LIVE, but you will receive access to recordings within 24 hours of each day's session - so if you have to miss some days, you'll still have access to the content.
How long do I have access to the course?
Sessions are recorded and will be uploaded to your curriculum dashboard within 24 hours following each session. After enrolling, you have unlimited access to this course for 6 months from the last day (December 17th) - So essentially your access to all recordings will end on June 17th, 2022.
What if I am unhappy with the course?
We would never want you to be unhappy! If you are unsatisfied with your purchase, contact us in the first 30 days and we will give you a full refund. If you choose to discontinue the course once the course begins, we'll honor a full refund - MINUS the amount for each day's session that you were registered for and/or participated in.
Do I need to attend LIVE for all sessions?
While we highly encourage it, we understand this may not be possible all the time - So no. Sessions are recorded and will be uploaded to your curriculum dashboard within 24 hours following each session.