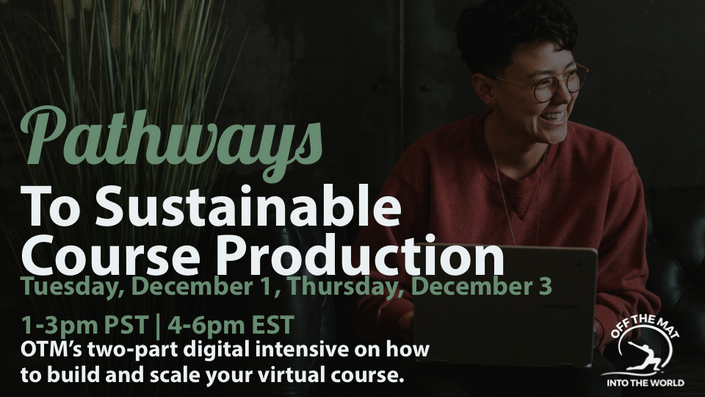 PATHWAYS TO SUSTAINABLE COURSE PRODUCTION
December 1 & 3, 2020
Pathways to Sustainable Course Production: OTM's two-part digital intensive on how to build out and scale your own virtual course
2020 has brought a tremendous shift to our lifestyle practices, routines, and modes of being. How do we pivot in this new reality? How do we thrive during difficult times?
Are you a healer, or teacher who has been supporting students for many years in your local community and now have to figure out new opportunities to hold space? Maybe you recently discovered your purpose, and are ready to take action by sharing your gifts with others? How do we translate our traditionally in person offerings into the digital form? How do we embody what we prescribe to others while running our own business during these unprecedented times? Pathways to Sustainable Course Production is for you if you are ready to translate and evolve your vision into the new digital community.
In this 2 part course series we will look at how to build sustainable embodied business practices designed specifically for wellness entrepreneurs looking to expand their offerings to the digital community.

In This Course, You'll Discover:
How to set up an online course--even if you have little to no technical skills
How to fine tune your social media strategy funnel while reducing social media burnout and fatigue
How to build your ideal workflow for maximum efficiency and free up your time for the things that matter most importantly to you
You have gifts that deserve to be shared with the world. We're here to support a pathway for wellness entrepreneurs in making money, doing what they love, while activating others to show up in a more authentic way.

In This Online Course We Will:
Provide access to tools that will turn your dreams into a plan
Collaborate with a community of conscious entrepreneurs who are creating pathways for a new world
Social Media marketing 101
Be able to articulate your vision to the public
Ready to balance productivity with intention and vision?
Session 1: How to package and fine tune your offering (narrowing down your offering(s), creating a social media and marketing funnel, and communicating to diverse audiences in ways that are in alignment with your purpose.
Session 2: Building your online course: (where to spend money, choosing and implementing online resources and platforms; zoom 101, sharing your course recordings & resources)
Mark your calendar:
Tuesday, December 1st at 1pm-3pm PST/ 4pm-6pm EST
Thursday December 3rd at 1pm-3pm PST/ 4pm-6pm EST
Can you make it to our live sessions; Tuesday, December 1st and Thursday December 3rd at 1pm PST/4pm EST? Your unique voice is needed for richer dialogue and to help co-create with one another. We will make time for community building, strategy specific to participants, Q & A, and discussion. While these sessions will be recorded, it is recommended to attend live!

Meet Your Teachers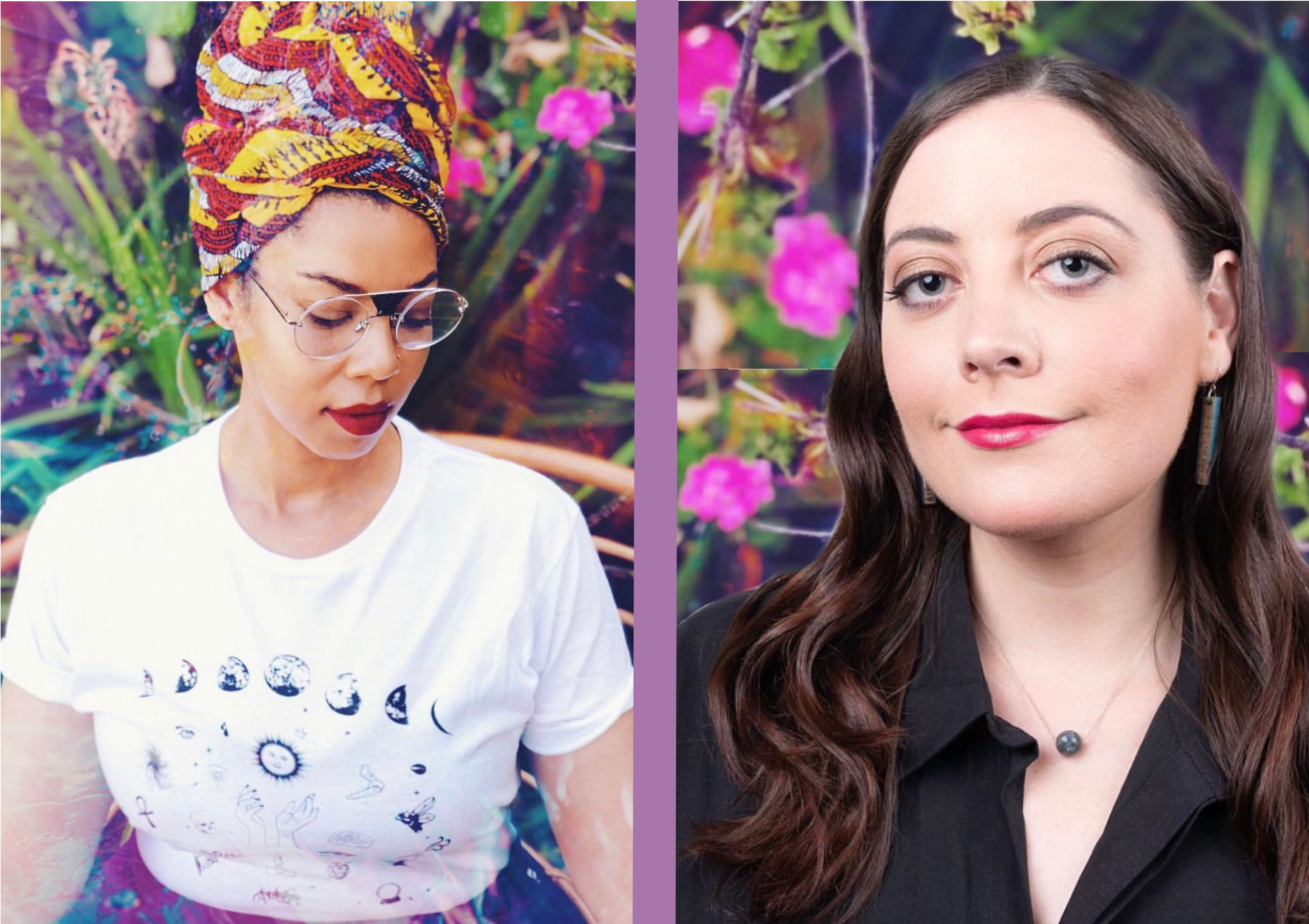 Monica Cadena is an Afro-Latinx Digital and Media Strategist with over seven years experience catalyzing communities into action through digital campaigns and diverse storytelling across multi-channel platforms. The former co-founder of Wear Your Voice Magazine, an intersectional feminist magazine centering the voices of Black and Brown queer women, femmes, trans and non-binary people, Monica's work is heavily influenced by the the resilience of the diasporic community, and centered around creating opportunities and economic access for people from underrepresented backgrounds in the media and wellness spaces. Her work has been featured in internationally recognized outlets such as CNN, Huffington Post, Self Magazine, People Magazine, Vogue Italia, Buzzfeed and Vanity Fair.
Sarah Lipsett (she/her), Off the Mat, Into the World's Community Relations and Program Director, is a digital space producer, marketing consultant, and facilitator with a knack for compassionately helping socially conscious entrepreneurs and organizations take their work to the next level.
Whether she's teaching wellness leaders how to create and monetize their offers, directing trainings for nonprofits, or producing large-scale online events and campaigns, the core of her work is a genuine care for the wellbeing of everyone she encounters. She's great at giving clients timely words of affirmation, and also doesn't shy away from telling them what they need to hear to get out of their own way.
In her role with OTM, Sarah makes sure that our community members and faculty have what they need for a well-rounded experience before, during, and after our life-changing intensives, setting them up to make a meaningful impact in the long run.
When she's not helping clients evolve and level up, she loves spoiling her sweet cat James, experimenting with vegan recipes and natural wines, exploring her home state's infinite hiking trails, and supporting anti-capitalist yoga spaces. At the moment, she lives on Indigenous Cheyenne and Arapaho land (also known as Denver, Colorado) and hangs out on Instagram at @sarahalipsett.

Outside of OTM, Sarah and Monica are currently co-creating Embodied Business Alchemy, a virtual coworking collective for entrepreneurs to share conscious business resources, cross-pollinate knowledge, and find freelance opportunities. Embodied Business Alchemy is all about tangible practices to support members in focusing on their purpose, and they're committed to taking social justice principles out of the theoretical and into the practical.

Course Curriculum
Welcome!
Available in days
days after you enroll
This course is not open for enrollment.