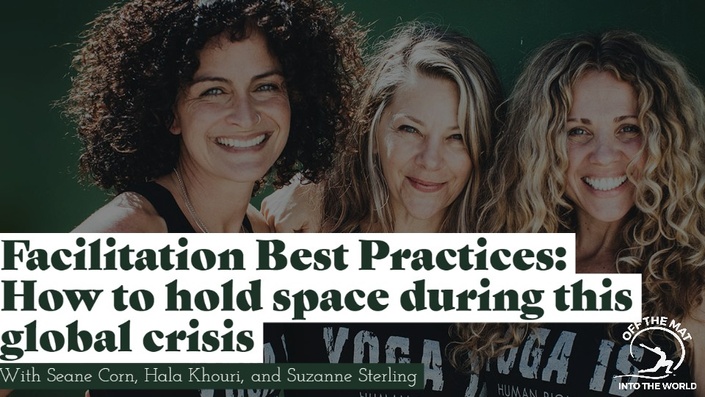 FACILITATION BEST PRACTICES: COURSE RECORDING
How to hold space during this global crisis
1 Session Course Recording
Please Note: You will have access to course recordings until Saturday, June 18th, 2022

A workshop for yoga and meditation teachers, educators, therapists and anyone needing to hold others in these overwhelming times.
Off the Mat founders Seane Corn, Hala Khouri, Suzanne Sterling, and Nikki Myers are known for their transformative and authentic facilitation. Each brings a unique gift and strength to their collaboration. Join them for this recorded session.
Main Session: Facilitation Best Practices: How to hold space during this global crisis
Join OTM founders as they share their best practices for how to hold space for others authentically and effectively. This is a unique time and many of us are figuring out how to stay out of overwhelm while also supporting others. In this workshops we will discuss the importance of self-care and self-accountability at this time. We will share how to use a trauma informed approach and how to create a sacred container online.
Seane, Hala, Suzanne, and Nikki have all found ways to translate their work online and want to share with you what these best practices are based on their decades of training and experiences.
If you are supporting others, this is a space to get support and inspiration.
We are happy to announce that Nikki Myers will be joining the founders, Seane, Suzanne and Hala in facilitating this course. In light of the events that directly impact Black people, speaking about the trauma of racism and addressing how we name it and hold space for it in these times (and always) is vital. It's not appropriate for three white skinned teachers to anchor this conversation in a multiracial teaching space. Nikki is part of the OTM faculty and a dear friend to all of us, she has generously agreed to join us and help hold space for this much needed conversation.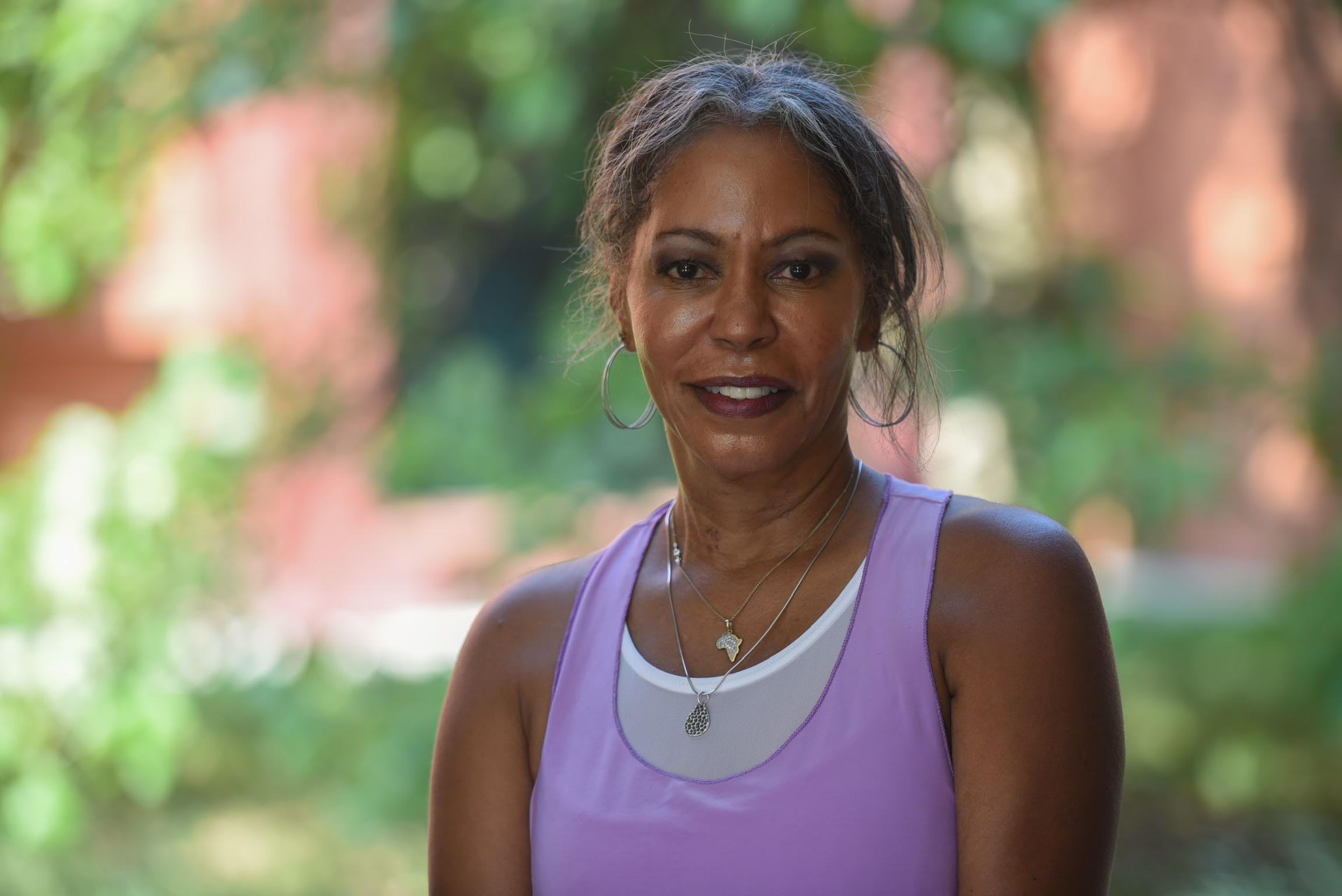 An accomplished speaker, teacher, and practitioner, Nikki Myers is an MBA, C-IAYT Yoga Therapist, Somatic Experiencing Practitioner, Addictions Recovery Specialist, and Health Coach. Born from her personal struggle with addiction and work with countless students, Nikki is the founder of Y12SR, Yoga of 12-Step Recovery. Based on its theme 'the issues live in the tissues', Y12SR is a relapse prevention program that weaves the art & science of yoga with the practical tools of 12-step programs. Y12SR meetings are available internationally and the curriculum has rapidly becoming a feature of addiction recovery treatment centers. Nikki's work has been featured in the New York Times, Black Enterprise, The Huffington Post, Origin Magazine, CBSnews.com and countless podcasts. She is honored to be a co-founder of the annual Yoga, Meditation and Recovery Conferences at Esalen Institute and Kripalu Center for Yoga and Health. Nikki has been featured as a keynote speaker at the International Association of Yoga Therapist (IAYT) conference and the International Conference on Integrative Medicine held at Harvard Medical School. She was named a Yoga Journal Game Changer in 2015 and is an honored recipient of the esteemed NUVO Cultural Visionary Award. website: www.y12sr.com

Meet Your Teachers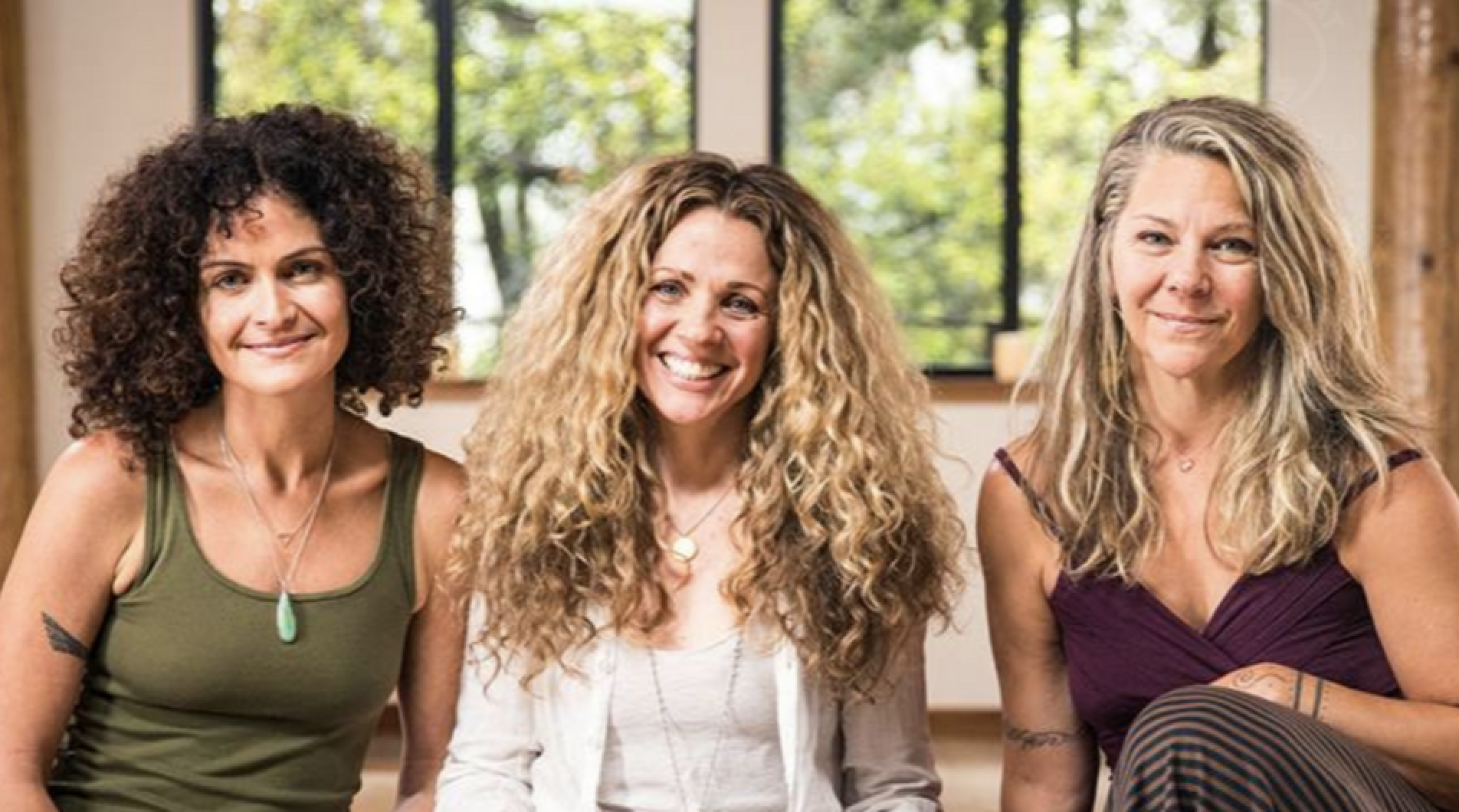 SEANE CORN is an internationally acclaimed yoga teacher and public speaker known for her social activism, impassioned style of teaching, and raw, honest, and inspired self-expression. Over her 25-year teaching career, Seane has created many instructional DVDs, including her groundbreaking series The Yoga of Awakening with Sounds True. Featured on over 40 magazine covers and countless media outlets, Seane has chosen to use her platform to bring awareness to global issues including social justice, sex trafficking, HIV/AIDS awareness, generational poverty, and animal rights. In 2005, she was named "National Yoga Ambassador" for YouthAIDS, and in 2013 received both the Global Green International Environmental Leadership Award and the Humanitarian Award by the Smithsonian Institute. Since 2007, she has been training leaders of activism through her co-founded organization Off the Mat, Into the World®. Seane also co-founded the Global Seva Challenge, which has raised over $3.5 million by activating communities of yoga and wellness in fund and awareness-raising efforts. Her first book Revolution of the Soul was published in Fall 2019.
HALA KHOURI has been teaching yoga and movement arts for over 25 years and has been doing clinical work and training for 15 years. She earned her B.A. in Psychology from Columbia University and an M.A. in Counseling Psychology and an M.A. in Community Psychology from Pacifica Graduate Institute. She is currently working on her doctorate in Community Psychology with an emphasis on Liberation Studies and Eco Psychology. Hala is one of the creators of Off the Mat, Into the World, along with Seane Corn and Suzanne Sterling. This is a non-profit organization dedicated to utilizing the tools of yoga and somatic practices within a justice framework to inspire people to be conscious leaders of change. Hala is trained in Somatic Experiencing, a body-based psychotherapy that helps resolve trauma and its symptoms and leads trauma-informed yoga training throughout the country. Hala also works with A Thousand Joys, training direct service providers and educators to be trauma-informed and culturally Responsive.
SUZANNE STERLING is a dedicated musician, yogi, activist, and social innovator who has been performing and teaching transformational workshops for over 20 years. Suzanne has been a featured artist/teacher at numerous festivals and conferences such as Wanderlust, Omega Institute, Esalen Institute, Kripalu, Yoga Journal, and many more. She is also part of the nationwide faculty for Yoga Works Teacher Trainings. Co-founder of OTM and director of the Seva Challenge Humanitarian Tours, Suzanne has co-curated programs throughout the US, India, Cambodia, Haiti, Ecuador, and Africa working with communities in need of aid.
This course is not open for enrollment.