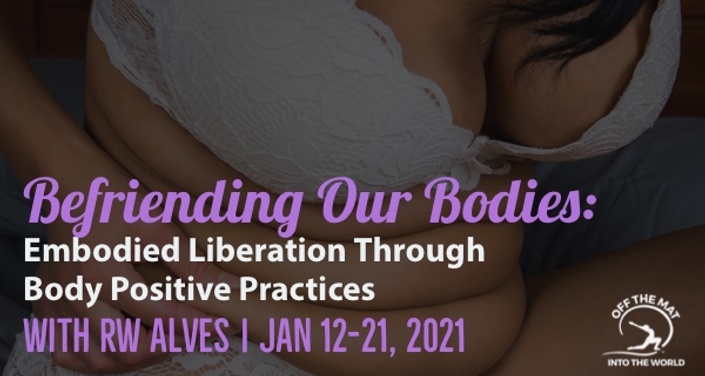 BEFRIENDING OUR BODIES: Embodied Liberation Through Body Positivity Practices (Course Recording)
Course Recording
Please Note: You will have access to course recordings until Saturday, June 18th, 2022
Befriending Our Bodies: Embodied Liberation Through Body Positivity Practices will be an experiential journey through befriending our bodies through movement, meditation, somatic practices, journaling and narrative identity development exercises, expressive arts, discussion, and community. In this course, we will practice together to cultivate a kinder, more compassionate, more open-hearted and supportive relationship with our human bodies, in whatever size, shape, form, ability, race, age, gender, or other manifestation they show up in.
Is this course for you?
Do you want to feel happier, more at home, more content, or more free in your body?
Have you internalized damaging messages around what kinds of bodies are "healthy", valuable, beautiful, acceptable, and valid?
Does your body-judgment or body-shame sometimes get in the way of living your life or doing what you want to do in the world?
Are you curious about a somatic approach to healing and shifting internalized body shame, insecurity, or judgement?
In this course, participants will explore:
Movement, somatic exploration, and meditation practices for cultivating body love, compassion, resilience, and liberation
Journaling, writing, self-reflection, and narrative identity development exercises to examine and unpeel the layers and history of their relationship with their bodies
Health at Every Size framework and how to apply it in our own work around healing our relationships with our bodies
Practices for visioning, expanding our imaginations, and living into the liberation, joy, and pleasure we can experience in our bodies and in our relationship with our bodies in the future
How the messages we've internalized around our bodies are manifestations of systems of power and oppression, such as fatphobia, racism, sexism, classism, cissexism, sizeism, healthism, ableism, and more
Quick and accessible daily practices to transform our relationships with our bodies and cultivate body love, body satisfaction, and joy in embodiment
Come heal your relationship with your body through cultivating compassion, resilience, and liberation in your embodied experience, and increase your capacity, responsiveness, and power for showing up for the important work you are called to do in the world!
The course will also incorporate a larger social justice and systemic power analysis, applying media literacy and other exercises to identify the messages we internalize around our bodies as manifestations systems of power and oppression, including but not limited to sexism, fatphobia, racism, classism, cissexism, sizeism, healthism, and ableism. We will discuss how to work with these messages and the values systems we've internalized on both a level of intellectual understanding and a level of somatic, body-based felt-sense. Ultimately, work around loving and living in our human bodies as they are is an act of political resistance and a powerful practice of living into our own truth and power!
This course qualifies for 6 Non-Contact Hours for Yoga Alliance CEUs-- 5 hours of Techniques, Training and Practice (TTP) and 1 hour of Anatomy and Physiology (AP)

Meet Your Teachers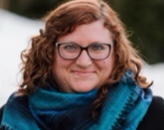 RW Alves, C-IAYT, SEP, E-RYT 500 (she/her and they/them), is a social justice educator, certified yoga therapist, yoga teacher trainer, and Somatic Experiencing Practitioner based in Seattle, Washington. Her work in the world and in yoga is informed by her experience as a fat white queer femme with a lifelong involvement in social justice and activism. She works at the intersections of social justice and spiritual practice by developing curriculum, training and mentoring yoga teachers and yoga therapists, creating spaces for self-care and community-care for activists, and teaching about inclusive languaging and teaching, trauma-informed yoga, nervous system resilience, accessible asana, justice, privilege, and spiritual practice.

RW serves as Faculty for Off the Mat, Into the World and the Yoga Service Conference, is currently developing a Trauma-Informed Yoga certification program with Hala Khouri and Kyra Haglund, and is a co-founder and trainer for Bending Towards Justice, which provides anti-oppression, equity, and social justice trainings for yoga teachers, practitioners, studios, and organizations around the country.
Course Curriculum
Welcome to Befriending Our Bodies: Embodied Liberation Through Body Positivity Practices
Available in days
days after you enroll
This course is not open for enrollment.